Wagner chief Yevgeny Prigozhin on Saturday declared his 25,000-strong force is in control of Rostov-on-Don and described his soldiers as 'patriots'
Putin responded by calling his actions a 'betrayal' of Russia as he appealed for soldiers to put their weapons
Prigozhin made the move in fury at what he claimed was Moscow's attack on his men, and said he intends to march to Moscow to take on defense chiefs
Get all the latest updates on events in Russia on MailOnline's live blog here
By ELIZABETH HAIGH and WILL STEWART
Vladimir Putin has called Wagner chief Yevgney Prigozhin's military coup 'treason' as he addressed the Russian people on Saturday, warning that the military leader had 'stabbed him in the back' as Moscow is on lockdown amid a red alert.
Prigozhin and his feared 25,000-strong Wagner militia have control of the southern Russian city of Rostov-on-Don, saying they are 'ready to die' as they vow revenge for a military strike from Putin's forces that the mercenary leader says killed some of his men.
The unit has now reached the halfway city of Voronezh as they advance on Moscow.
All public events have been cancelled in the Russian capital as Vladimir Putin took to TV to say some Russians have been 'tricked into a criminal adventure' in a bid to affirm his increasingly shaky grip on power.
Putin described the group's actions as 'equivalent to armed mutiny', and urged those involved to cease any armed resistance.
As the Wagner unit's HQ in St Petersburg was raided by Russian police today, its boss told the President he was 'wrong' to accuse him of treason.
It comes after Prigozhin issued a new message at about 7:30am Moscow time saying his men have infiltrated the Southern Defense Command in Rostov-on-Don and that the city's airfield was under his control.
A message posted on the Wagner Telegram channel on Saturday said: 'Putin made the wrong choice. All the worse for him. Soon we will have a new president.'

Wagner leader Yevgeny Prigozhin said in a video released in the early hours of Saturday that his forces have reached the strategically important city of Rostov-on-Don

Putin described the group's actions as a 'criminal adventuristic campaign' that is 'equivalent to armed mutiny'

A woman walks her dog past a Wagner tank after Wagner troops took over the city of Rostov-on-Don

Russian fighters, believed to be from the Wagner group, on a street near the headquarters of the Southern Military District in the city of Rostov-on-Don

A convoy of Wagner military vehicles pictured on Saturday morning in Rostov-on-Don
Prigozhin, who was once a confidant of Vladimir Putin before declaring war on Moscow's military leadership last night, said in a video that the highest ranking officer at the command post had fled as soon as he learned that Wagner forces were approaching.
A Russian security source said Wagner fighters had also taken control of military facilities in the city of Voronezh, about 500 km (310 miles) south of Moscow.
This would be significant as it marks the halfway point between Rostov and Moscow.
The governor of Russia's Voronezh region said on Saturday that the army was taking 'necessary military measures' in the region as part of a counter-terrorist operation declared after an armed mutiny by the Wagner mercenary group.
It is also being claimed that Wagner troops are on the outskirts of two other southern cities, Krasnodar and Volgograd – but this has not been verified.
Pro-Putin forces on the outskirts of Moscow were seen digging in against the Wagner coup army heading towards the capital.
Russian troops were seen establishing positions at a bridge across the Oka River. They deployed barrage equipment, machine guns and grenade launchers.
Prigozhin said he had 25,000 troops under his command and would punish Russian military boss Shoigu in an armed rebellion, urging the army not to offer resistance: 'This is not a military coup, but a march of justice.'
Putin today told the Russian people: 'This is a criminal adventuristic campaign. It's equivalent to armed mutiny.
'We will defend ourselves and repel this inimical move. We are fighting for the life and security of our citizens and our territory.
'It's a question of Russiaa's millennial history. Everything has to be done to put this danger to rest.
'It's an attempt to subvert us from inside. This is treason in the face of those who are fighting on the front.
'This is a stab in the back of our troops and the people of Russia.'
A grave-looking Putin told Russians: 'What we are facing now is treason.'
The 70-year-old dictator warned: 'Everyone who deliberately embarked on the path of betrayal will suffer inevitable punishment.
'The armed forces received the appropriate orders.'
He continued: 'As President of Russia and the Marshall in chief, as a citizen of Russia I am doing everything to repel this attack and to ensure the freedom and security of our citizens. Those who are mutiny have betrayed Russia.'
Even as Putin spoke, 180 Russian servicemen and security forces at a border crossing in the Voronezh region refused to interfere with the actions of the Wagner PMC and laid down their arms.
Prigozhin responded on Saturday by telling the President he was 'wrong' to accuse him of treason.
He added: 'No-one is going to turn themselves in at the request of the president, the FSB or anyone else.
'Because we do not want the country to live on in corruption, deceit and bureaucracy.'

Members of the Wagner military group atop a tank, which appears to be stuck in the entrance to a building in Rostov-on-Don

The tank, which appears to be a T90, was later emptied of Wagner mercenaries

Wagner soldiers were on high alert after taking over Rostov-on-Don on Saturday

New photos showed Wagner fighters walking through the streets of Rostov-on-Don on Saturday morning

Heavily armed soldiers have been seen on guard throughout the southern city

A Russian military helicopter reportedly downed by Wagner insurrectionists in Voronezh region

Helicopters attacked an oil depot in the city of Voronezh on Saturday

Dozens of armoured vehicles have been seen on the streets of the Russian city of Rostov-on-Don

The Chechen military leader also called for loyalty to the President, urging his forces to help 'put down' the mutiny. He has reportedly sent soldiers to fight the Wagner unit (pictured)

A tank controlled by Wagner mercenaries sports a 'V' for victory sign

A servicemen from the Wagner Group guards the roof of the headquarters of the Southern Military District in Rostov-on-Don

Russian troops were seen establishing positions at a bridge across the Oka River

Russian police officers patrol in an area outside PMC Wagner Centre on Saturday
Russian policemen guard an area near an office of the 'PMC Wagner Centre', which is associated with the owner of the Wagner private military contractor, Yevgeny Prigozhin, in St. Petersburg
It has been reported that Wagner's office was raided by government officials this morning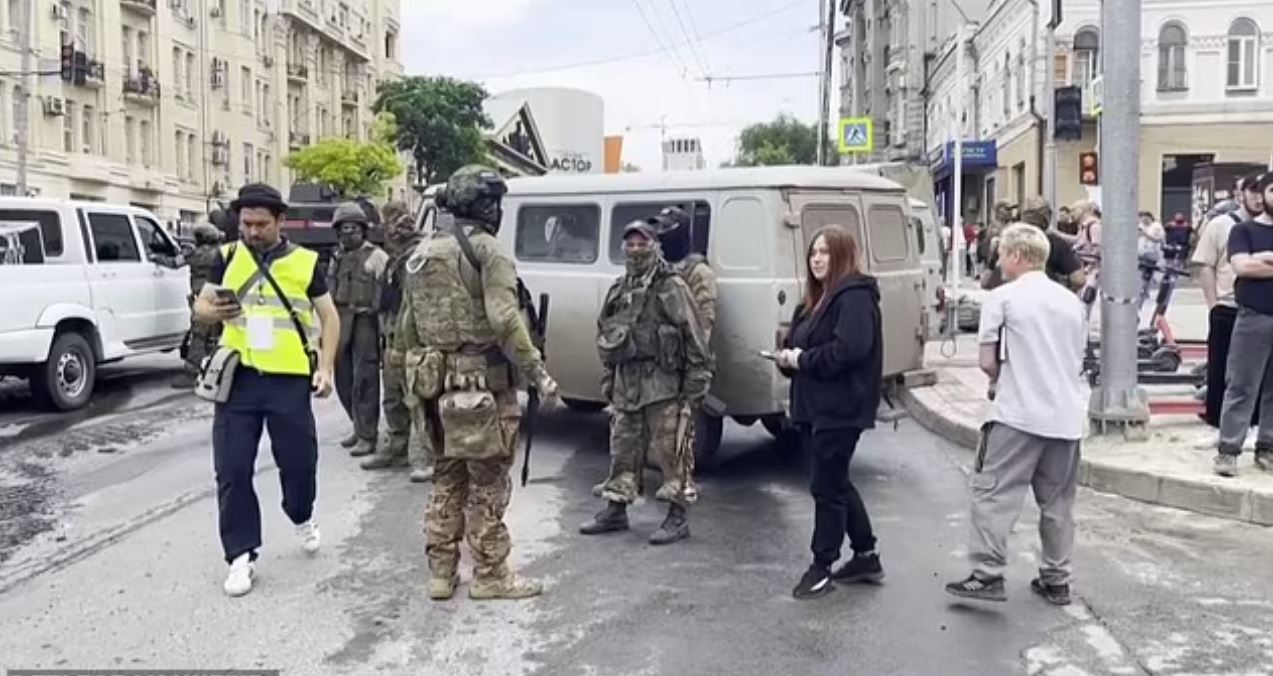 Russian people in Rostov watch events unfold as Wagner soldiers stand guard
Prigozhin claimed that 180 Russian servicemen and security forces at the border crossing in the Voronezh region refused to interfere with the actions of the Wagner PMC and laid down their arms

Founder of Wagner private mercenary group Yevgeny Prigozhin and Russian Wagner Group fighters are seen at the headquarters of the Southern Military District of the Russian Armed Forces in Rostov-on-Don

Prigozhin (centre) meets with Russia's Deputy Minister of Defense Yunus-Bek Yevkurov, at the headquarters of the Southern Military District of the Russian Armed Forces, in Rostov-on-Don

A Wagner fighter sets up a large gun on the back of a vehicle

Wagner fighters deployed on the streets of the southern city of Rostov-on-Don

The UK Defence Ministry issued an update on the dramatic events on Saturday morning
Residents have been told to stay in their homes by government officials, but some were seen out observing what was happening, even live-streaming the action on their cell phones.
Steve Fish, professor of political science at the University of California, Berkeley, told the BBC World Service early on Saturday that 'this has the look of a military coup'.
Now the Moscow mayor, Sergey Sobyanin, has reportedly said all public events have been cancelled, as Putin called close ally Belarussian President Alexander Lukashenko to brief him on the situation.
Speaking after taking control of Rostov-on-Don, Prigozhin said: 'When we came here, we once again confirmed: a lot, a huge amount of territory was lost. Soldiers were killed three, four times more than reported to commanders. And what is reported is 10 times less than they say on TV. Losses per day amount to some days up to 1,000 people.'
'These are the dead missing, the wounded and the so-called refuseniks, who refuse not because they are afraid, but because they have no way out, no ammunition, no control. The Chief of the General Staff fled from here as soon as he learned that we were approaching the building,' he concluded.
New photos showed Wagner fighters walking through the streets of Rostov-on-Don on Saturday morning, one picture featured a member flashing the v for victory sign.
Some Wagner fighters appeared to be using a ring of silver tape on their leg or arm to signal their allegiance to one another.
Footage shared on social media showed troops outside the Southern Military Headquarters – which plays a crucial role in managing the Ukraine war – while more were seen less than half a mile encircling the Rostov office of the Interior Ministry.
Taking over the military headquarters in Rostov-on-Don would have 'significant' consequences for Russia's ability to defend against Ukraine's counteroffensive, said the Institute for the Study of War this morning.
The think tank said: 'Prigozhin may have wildly miscalculated and called for an armed rebellion incorrectly thinking that he would have Putin's backing.
'The severe consequences that would result from a failed armed rebellion suggest that Prigozhin viewed his alternatives to be just as threatening.'
Alexander Vindman, a Ukraine expert and former member of the National Security Council, tweeted on Friday night as the first images from Rostov emerged: 'Those are not Russian National Guard troops. That looks like Wagner troops entering the SMD HQ.'
Putin's humiliated army commander General Valery Gerasimov was reported to be 'holed up in a civilian apartment with his friends in Rostov', according to media loyal to Prigozhin.
This came after the chief of the army general staff fled 'with people loyal to him' from the war command post in the city after Wagner forces took control.
There were claims that the 22nd GRU military intelligence special forces detachment went over to Prigozhin's side.
A video that appeared on Telegram on Saturday showed mercenary leader Yevgeny Prigozhin meeting with Russia's Deputy Defense Minister Yunus-Bek Yevkurov and deputy chief of the General Staff Vladimir Alexeyev.
In the video, whose origin couldn't not be independently verified, Prigozhin claimed that he and his troops were 'saving Russia' and demanded that the Russian authorities give up Defense Minister Sergei Shoigu and chief of the General Staff Valery Gerasimov.
'We went to get the chief of the General Staff and Shoigu,' Prigozhin said. 'Until they are here, we are here, we are blocking the city of Rostov and go toward Moscow.'
Yevkurov and Alexeyev in the video tried to persuade Prigozhin to withdraw his forces from Roston-on-Don, but to no avail.
Later on Saturday video footage emerged online which appeared to show a major oil depot engulfed in flames in Voronezh.
Videos show a helicopter flying over the depot before a huge explosion sends a fireball into the air.
Meanwhile, in St Petersburg the FSB was raiding the headquarters of Wagner private military company.
And Britain's defence ministry said on Saturday that the Russian state was facing its greatest security challenge of recent times.

Members of Wagner group stand guard in a street in the city of Rostov-on-Don, on June 24, 2023

The British Defence Ministry shared an intelligence update early on Saturday that said Wagner was 'almost certainly' in control of key positions in Rostov
The department tweeted that the feud between the Wagner group and the Russian defence ministry 'escalated into outright military confrontation' in the early hours of Saturday.
'In an operation characterised by Prigozhin as a 'march for freedom', Wagner Group forces crossed from occupied Ukraine into Russia in at least two locations,' the MoD said.
It said that in the southern Russian city of Rostov-on-Don, 'Wagner has almost certainly occupied key security sites', including the Russian military headquarters that oversees the fighting in Ukraine.
'Over the coming hours, the loyalty of Russia's security forces, and especially the Russian National Guard, will be key to how this crisis plays out. This represents the most significant challenge to the Russian state in recent times,' Britain's defence ministry said in a regular intelligence update.
It added: 'Further Wagner units are moving north through Vorenezh Oblast, almost certainly aiming to get to Moscow.
'With very limited evidence of fighting between Wagner and Russian security forces, some have likely remained passive, acquiescing to Wagner.'
Wagner's armoured vehicles were seen speeding through Voronezh region several hundreds miles from the capital on Saturday.
Russian forces appeared to confirm three of its attack helicopters had been shot down by Wagner.
Prigozhin launched his extraordinary action after calling for the ousting of the Defense Minister Sergei Shoigu and vowing to punish Russian military leaders – whom he accused of killing 'hundreds' of his mercenaries in an air strike.
The private army boss also claimed the Russian military leaders are lying to Putin and hiding the bodies of a further 2,000 soldiers to conceal losses in Ukraine.
As his Wagner forces closed in on Rostov on Friday night, 1,000 miles from Moscow, Prigozhin said they would take 'all necessary steps' to topple the country's military leadership.
He declared: 'We will destroy anyone who stands in our way… we are moving forward and will go until the end'.

The Wagner group claims to have shot down three Russian helicopters since its coup began

Prigozhin claimed to have also shot down a Russian military helicopter in the city – home to the Kremlin's headquarters for the war in Ukraine

Wagner fighters rest outside a cafe after taking the southern city of Rostov-on-Don

A Wagner fighter on guard duty close to the Southern Military District HQ

Military vehicles were seen passing through the central streets of Rostov on Saturday

Armored cars blockade a street in the city of Rostov as the sun began to rise on Saturday

A fighter of Wagner private mercenary group flashes a victory sign in a street near the headquarters of the Southern Military District in Rostov-on-Don

Fighters of Wagner private mercenary group are seen atop of an armoured vehicle

A fighter of Wagner private mercenary group stands guard in a street near the headquarters of the Southern Military District

A group of Wagner fighters pictured on Rostov-on-Don street on Saturday morning
Russia's defense military in Moscow is pictured as dawn breaks on Saturday. Anti-aircraft artillery are pictured on the roof

Russian policemen guard the Red Square in Moscow on Saturday morning

Russian servicemen stand guard on a street in downtown Moscow

Policemen guard the Kremlin, home to Russian President Putin, on Saturday

Armored vehicles were seen on the streets of Moscow on Friday night outside the Cathedral of Christ the Savior amid fears of a coup

An armored personnel carrier (APC) is seen on a street of the southern city of Rostov-on-Don on Friday night

Armored vehicles trawl through the street of the southern city of Rostov-on-Don amid coup fears in Russia on Friday
In response, Russian military vehicles were seen on the streets of Moscow.
Ex-president Dmitry Medvedev – a Putin loyalist – posted: 'Now the most important thing is to defeat the external and internal enemy, who is hungry to tear our Motherland.'It was vital 'to save our state, is to rally around the President, the Supreme Commander of the country's armed forces.
'Split and betrayal' was 'the path to the greatest tragedy, a universal catastrophe.
'We won't allow it. The enemy will be defeated! Victory will be ours!'
Russian Foreign Ministry spokeswoman Maria Zakharova also called on Russians to rally around the Russian President, as photos showed a heavy police and army presence guarding key sites such as the Kremlin and the Red Square in Moscow.
The Chechen military leader also called for loyalty to the President, urging his forces to help 'put down' the mutiny. He has reportedly sent soldiers to fight the Wagner unit.
The FSB security services earlier said they had opened a criminal investigation into Prigozhin and called for his arrest, accusing him of inciting armed insurrection.
While the realities on the ground remain unclear, the episode appears to be the biggest internal military crisis Putin has faced since he ordered a full-scale invasion of Ukraine in February last year.
Mick Mulroy, a retired C.I.A. officer and a former Pentagon official, said that Prigozhin poses 'a serious challenge' to Putin.
'If Mr Prigozhin's threats materialize, the Russian military may have to refocus its efforts from countering the Ukrainian advance to the Russian government's 'self-preservation',' he said.
'Even if this attempted coup fails, it emphatically makes the point that those closest to this war know it was a terrible mistake.'
It was reported on Saturday that several members of Putin's circle called on security council chief Nikolai Patrushev to seize power amid concerns the weakened dictator is unable to clampdown on Wagner.
Patrushev, 71, secretary of the powerful Russian security council, is seen as being in charge of the response.
'The president has practically withdrawn himself from solving the current crisis,' reported General SVR Telegram channel.
Patrushev believes the armed revolt should be 'severely repressed' but refused to take control of the government, according to their report.
The attempted coup is being well-received in Ukraine due to the chaos it is expected to cause, where forces are in the midst of a counter-offensive against Russian troops following their invasion in February last year.
Ukrainian President Volodymyr Zelenskiy said on Saturday that 'Russia's weakness is obvious' and that the longer Moscow keeps its troops and mercenaries in Ukraine, the more chaos it would invite back home.
He made the comments on the Telegram messaging app amid an apparent mutiny on Saturday by Wagner mercenary chief Yevgeny Prigozhin against the Russian military.
'Russia's weakness is obvious. Full-scale weakness,' Zelenskiy wrote.
'And the longer Russia keeps its troops and mercenaries on our land, the more chaos, pain and problems it will have for itself later.
'For a long time, Russia used propaganda to mask its weakness and the stupidity of its government. And now there is so much chaos that no lie can hide it.'
A brutal civil war in Russia is beginning, claimed Ukrainian presidential aide Mykailo Podolyak.
'The start of the Ukrainian counter-offensive definitively destabilised the Russian elites, deepening the internal division that arose after the defeat in Ukraine.
'Today we are actually witnessing the beginning of a civil war.
'Prigozhin's group captures military installations, headquarters and entire cities, encountering almost no resistance on their way, disarming random soldiers and policemen.
'Putin declares Prigozhin a traitor and outlaw and announces the appropriate orders to the special services, but nothing happens – a crisis of governance, the actual loss of power.
'At the same time, Wagner continues its march on Moscow. Ukraine continues to move its own way… to the 1991 borders.'
This would mean the return of Crimea and the Donbas, along with other invaded regions, to Kyiv's control.
Advisor to the Minister of Internal Affairs Anton Gerashchenko added on Twitter: 'Today, Ukraine has become a few steps closer to complete Victory over Russia and complete return of its territories, including Crimea.
'A vile, but useful in this case monster – Prigozhin, raised an armed rebellion against Shoigu and Gerasimov, captured the headquarters of the Southern Military District of the Russian Federation, and now his advanced groups are heading towards Voronezh, and then towards Moscow.
'In fact, this is a rebellion, not against war criminals Shoigu and Gerasimov, but against Putin himself, whose place Prigozhin has long wanted to take and create his own regime in Russia.'
As Prigozhin said his men were ready to 'go all the way' against Russian military leaders, the state news agency quoted Kremlin spokesman Dmitry Peskov as saying all of the country's security services were reporting to Putin 'round the clock'.
Security was stepped up on Friday night at government buildings, transport facilities and other key locations in Moscow, Russia's TASS news agency reported, citing a source at a security service.
Meanwhile, Russian state media had coverage across its front page dedicated to the 'armed rebellion' by the Wagner chief, while Google News was reportedly blocked in the country as the feud intensified.
Prigozhin has said his actions do not amount to a military coup.
But in a frenzied series of audio messages, in which the sound of his voice sometimes varied and could not be independently verified, he appeared to suggest that his 25,000-strong militia was en route to oust the leadership of the defense ministry in Moscow.
Prigozhin said: 'Those who destroyed our lads, who destroyed the lives of many tens of thousands of Russian soldiers, will be punished. I ask that no one offer resistance…
'There are 25,000 of us and we are going to figure out why chaos is happening in the country,' he said, promising to tackle any checkpoints or air forces that got in Wagner's way.
'We will consider anyone who tries to resist a threat and quickly destroy them,' he said.

Russian servicemen block a street in downtown Rostov-on-Don, southern Russia, overnight

Military personnel and equipment in the center of Moscow and near the Russian MoD
Earlier on Friday, Prigozhin had appeared to cross a new line in his increasingly vitriolic feud with the ministry, saying that the Kremlin's rationale for invading Ukraine was based on lies concocted by the army's top brass.
Prigozhin has for months been openly accusing Defense Minister Sergei Shoigu and Russia's top general, Valery Gerasimov, of rank incompetence and of denying Wagner ammunition and support.
'Prigozhin's statements are in fact calls for the start of an armed civil conflict on Russian territory and his actions are a 'stab in the back' of Russian servicemen fighting pro-fascist Ukrainian forces,' the FSB said.
'We urge the … fighters not to make irreparable mistakes, to stop any forcible actions against the Russian people, not to carry out the criminal and traitorous orders of Prigozhin, to take measures to detain him.'

Prigozhin said that the Russian Armed Forces launched a missile attack on PMC Wagner forces

An armoured personnel carrier (APC) is seen next to a shopping mall in the southern city of Rostov-on-Don on Friday night

A military vehicle appeared to be on the streets of Moscow on Friday evening as Prigozhin called on the Russian National Guard to join his side
Army Lieutenant-General Vladimir Alekseyev issued a video appeal in which he asked Prigozhin to reconsider his actions.
'Only the president has the right to appoint the top leadership of the armed forces, and you are trying to encroach on his authority,' he said.
General Sergei Surovikin, the deputy commander of Russian forces in Ukraine whom Prigozhin has praised in the past, in a separate video urged Wagner to 'stop'.
'The enemy is just waiting for our internal political situation to deteriorate,' said Surovikin.
'Before it is too late, and it must be done, you must submit to the will and order of the people's president of the Russian Federation.
'Stop the columns and return them to their permanent bases,' he said.

This screen grab from video provided by Ostorozhno Novosti, Saturday, June 24, 2023, reportedly shows a military vehicle driving through a street in Moscow

Armoured vehicles are seen on a street of the southern city of Rostov-on-Don, Russia
Prigozhin, a one-time Putin ally, in recent months has carried out an increasingly bitter feud with Moscow.
Wagner led Russia's capture of the Ukrainian city of Bakhmut last month, Russia's biggest victory in 10 months, and Prigozhin has used its battlefield success to criticize the leadership of the defense ministry with seeming impunity – until now.
The defense ministry has – until now – largely ignored his criticism, at least in public.
An unverified video posted on a Telegram channel close to Wagner showed the purported scene of an air strike against Wagner forces.
It showed a forest where small fires were burning and trees appeared to have been broken by force. There appeared to be one body, but no more direct evidence of any attack.
It carried the caption: 'A missile attack was launched on the camps of PMC (Private Military Company) Wagner. Many victims. According to eyewitnesses, the strike was delivered from the rear, that is, it was delivered by the military of the Russian Ministry of Defense.'

Pictures shared by the Rostov emergencies telegram appear to show a Russian military presence on the streets

Prigozhin claimed that Shoigu went to the Russian military headquarters in the southern city of Rostov-on-Don personally to direct the strike on Wagner and then 'cowardly' fled. Pictures from Rostov on Friday night
On Friday he for the first time he dismissed Putin's core justifications for invading Ukraine on February 24 last year.
'The war was needed … so that Shoigu could become a marshal … so that he could get a second 'Hero' [of Russia] medal,' Prigozhin said in a video clip.
'The war wasn't needed to demilitarize or denazify Ukraine.'
Marat Gabidullin, a former Wagner commander who moved to France when Russia invaded Ukraine, told Reuters that Wagner's fighters were likely to stand with Prigozhin.
'We have looked down on the army for a long time … Of course they support him, he is their leader,' he said.
'They won't hesitate (to fight the army), if anyone gets in their way.'
On the frontlines of Ukraine, the Kremlin that Kyiv was taking advantage of infighting between the Wagner mercenary group and the Russian military to ready an assault near the east Ukraine hotspot of Bakhmut.

Russian President Vladimir Putin listens to Ivan Dedov, member of the Russian Academy of Sciences at a meeting at the Kremlin earlier Friday

The top Russian military commander in Ukraine, Gen. Sergei Surovikin (left) talks with Russian Defense Minister Sergei Shoigu, December 2022
Tensions between Moscow and the private military company are dramatically coming to a head, with Prigozhin declaring: 'The council of commanders of PMC Wagner has made a decision – the evil that the military leadership of the country brings must be stopped.'
The feared Wagner boss launched a scathing attack on Russia's military leadership on Friday, claiming that Putin is being fed lies about 'colossal' battlefield failures in Ukraine by 'mentally ill a**holes' in high command.
The final straw for the furious Wagner leader came on Friday, as he shared a video of what he claimed was the devastation wrought by Russian bombs on the mercenary group's bases – despite them having fought on Putin's side in the war.
He claimed Russia rained bombs down on its own mercenary fighters after he criticised during his expletive-laden rant aimed at the country's top military brass, Defence Minister Sergei Shoigu, on Telegram.
Prigozhin claimed that Shoigu went to the Russian military headquarters in the southern city of Rostov-on-Don personally to direct the strike on Wagner and then 'cowardly' fled.
'This scum will be stopped,' he said, in a reference to Shoigu.
'The evil embodied by the country's military leadership must be stopped,' he shouted, urging the army not to offer any resistance to Wagner as it moves to 'restore justice.'

Prigozhin, 62, made his money providing catering services and eared himself the nickname 'Putin's chef'
'We were ready to make concessions to the defense ministry, surrender our weapons, Prigozhin claimed in the footage.
'Today, seeing that we have not been broken, they conducted missile strikes at our rear camps. A huge number of our fighters, our comrades died,' he said in a series of furious audio messages released by his spokespeople.
The Russian defense ministry denied the claims about the strikes, saying the statements 'do not correspond to reality', and calling them a 'provocation'.
'The Russian armed forces continue to carry out combat missions' in Ukraine, the ministry added.
Ukraine appeared to poke fun at the predicament Putin is now facing – warning the Kremlin in a Tweet on Saturday night: 'We are watching.'
Earlier in the day, Prigozhin said Moscow's forces were retreating in Ukraine's east and south following Kyiv's counteroffensive.
That directly contradicted Putin's account that Ukraine was suffering 'catastrophic' losses and that there was a lull in fighting.
'We are washing ourselves in blood,' Prigozhin said.
'No one is bringing reserves. What they tell us is the deepest deception,' he added, referring to the Russian military and political leadership.
After years of operating in the shadows, Prigozin has in recent months admitted to running the elusive mercenary group and even interfering in US elections.
His forces, bolstered by tens of thousands of prison recruits, played a central role in Russia's capture of the Donetsk region town, Bakhmut, the longest and likely bloodiest battle of the conflict.
Rarely has such a controversial figure shot to this degree of prominence on the Russian political stage under Putin.
Prigozhin rose from a modest background to become part of the inner circle around Putin.
He spent nine years in prison in the final period of the USSR after being convicted of fraud and theft. In the chaos of the 1990s, he began a moderately successful business selling hot dogs.
From there he fell into the restaurant business and opened a luxury location in Saint Petersburg whose customers included Putin, then making the transition from working in the KGB to local politics.
However, in recent months, Prigozhin has become embroiled in a bitter power struggle with the defense ministry.
He has accused the Russian military of attempting to 'steal' victories in Ukraine from his forces, and slammed Moscow's 'monstrous bureaucracy' for slowing military gains.
Wagner's presence has been reported in conflict zones including Syria, Libya, Mali, and the Central African Republic, where it has been accused of abuses and capturing state power.